---
CCP14 Supported Projects
Beware! - Cross check with known standards. Source code released under the GNU GPL Software Licence
Diffconv - INEL PSD Spline based Data Calibration software for Windows 95/NT by Stefan Pantos
Mass Spline Conversion of INEL PSD Powder data using a Silver Behenate and Cubic Y2O3 mixture calibration file
The CCP14 Homepage is at http://www.ccp14.ac.uk
---
---
---
Run Diffconv and Load the Calibration File
Run diffconv and select File, Load Options to add the standard file you wish to convert to ASCII without using any calibration.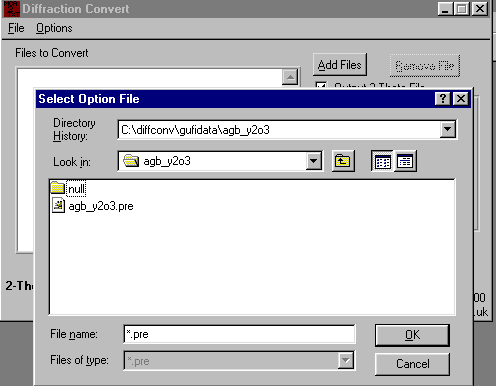 ---
You can check if the Calibration (*.pre) file loaded OK by selecting Options, Spline Options and check the data matches up. If you find zeros around the place, the data may not have been tab delimited - but space delimited. (Go and edit the *.pre calibration file and make it tab delimited.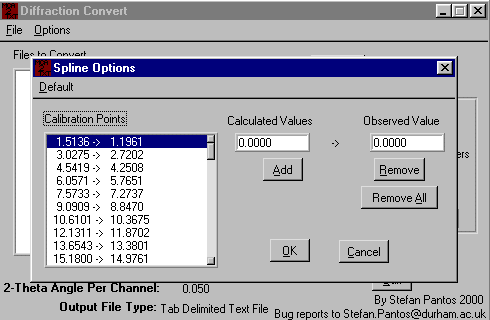 ---
Use the Add Files icon to add the thousands of data files you need to convert.

Then selecting the Spline Conversion button, and options such as Round 2-theta to Integers, Constant Step 2-theta, Limit 2-theta range, and the data format you wish to output to.

If you select the CPI or related output formats, Constant Step 2-theta will be greyed "ON" as this is a Constant Step format.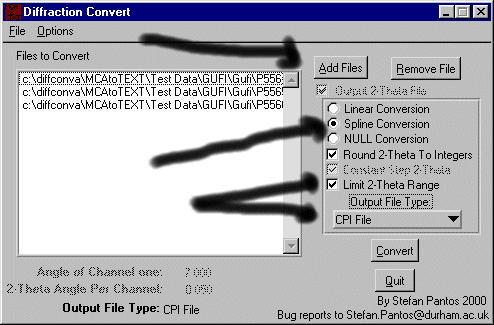 ---
Now select the Convert and convert the data. You will be asked questions based on your options. Please give sensible answers here - especially with the contant step size (0.03 can normally be a good default) and the 2-theta range.
The Interpolate options mentioned below are to convert the data into constant step. Linear is fast - spline is slow. Don't confuse this with the "spline" calibration.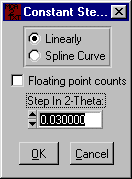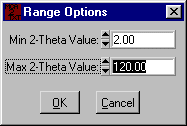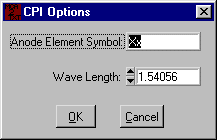 ---
---
---
---