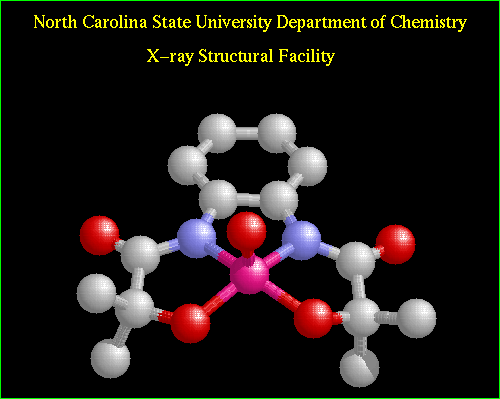 About this Structure

Welcome to the X-ray Structural Facility of North Carolina State University, Raleigh. The Facility serves the structural needs of the Department of Chemistry, the University community and organizations in the Research Triangle area. Crystal and molecular structures are determined by single crystal X-ray diffraction. The X-ray Structural Facility is located in 737 Dabney Hall

Facility Director: Dr. Paul D. Boyle.

Equipment:
Diffractometers

Enraf-Nonius CAD4 diffractometer.
Enraf-Nonius CAD4-MACH diffractometer with Low Temperature attachment.

Computing

Silicon Graphics Workstation. MIPS R4400. Molecular Visualization/Computational Chemistry, Cambridge Structural Database server.
Linux Workstation. PII-400. Crystallographic calculations.
Linux Workstation. PII-400. Crystallographic Results server.
Linux Workstation. PII-233. Diffractometer control, NFS server.
Linux is a fully featured, mostly POSIX compliant, unix-like operating system for PC's.

Resources:
Download a PDF of the Sample Submission Form from the link above.

If you are interested in some tips on growing X-ray quality crystals, then try reading Growing Crystals that Will Make Your Crystallographer Happy. Naturally, if you want to share some of your favorite crystal growing recipies, feel free to email them to boyle@laue.chem.ncsu.edu

Softcopies of your crystallographic results can be downloaded via the Web.

Literature references for software used in the crystallographic structure analyses done in this Facility are available to help you write up your results.

This server also has links to the X-ray Facility's anonymous ftp site for various Linux, DOS and Mac goodies, the Facility's Annual Report, and various on-line documentation.

This is a nice graphic tutorial on diffraction.

Other Web Resources
Here are some other interesting or useful home pages concerning crystallography or chemistry.
American Crystallographic Association Web Sites
Web Sites of Bio-Molecular Interest


Other major chemical instrumentation Facilities at NCSU are the:

Return to:

NCSU Dept. of Chemistry Home Page

NCSU Home Page
---
boyle@laue.chem.ncsu.edu
Last Updated 27 August 2003